Every island in the Caribbean region celebrates at least one major event each year, sometimes even more. All you need to do is check out the countless Caribbean festivals listed here to know how true this is.
What is more, one look will tell you that they know how to throw a party. So if you're looking for pulsating music, tasty and authentic foods, and loads of fun, you should attend one of these events.
The question is, which one? Some feature musical performances, different Caribbean cultures, Caribbean food and sweets, and everything in between.
To help you make the right choice, below is a rundown of some of the most exciting festivals that you can't afford to miss.
Caribbean Festivals You Shouldn't Miss
Whether you are looking for a music festival on the beach, a carnival, or a celebration influenced by the region's rich cultural heritage, we've got you covered. Set aside a few days or more for one of these Caribbean events.
[the_ad id='8070′]
1.Trinidad and Tobago Carnival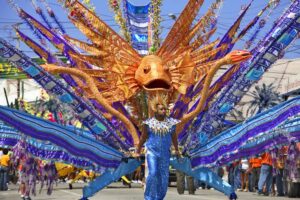 All countries reserve at least one day each year to showcase their culture and share it with the rest of the world. Those in the Caribbean take this seriously, and it shows in the way they celebrate—with great passion and reckless abandon.
However, among them, few can match the revelry of the Trinidad and Tobago Carnival. This is one of the oldest carnivals in the Caribbean, second to Brazil in the world. With a variety of bands, live performances and an array of colorful costumes to choose from why not join in? Watch street parades powered by calypso music and do other fun things for days or even weeks. This year's edition of the cultural celebration is already in the books, but you can start saving for next year. It is set for February 20, 2023.
[the_ad id='8070′]
2. Saint Kitts Music Festival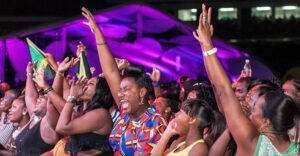 Caribbean music festivals are known for being vibrant and full of energy. The same is true for the Saint Kitts Music Festival. It is a three-day Caribbean event that includes musical performances by A-list international artists, beach parties, and boat rides. It was first held in 1996 under the name Shak Shak Festival and has since become a major player on the island's calendar of events. This year's version of the Caribbean festival marks the 25th anniversary and is set for June 23rd to 25th, so mark your calendar.
[the_ad id='8070′]
3. Jamaica – Reggae Sumfest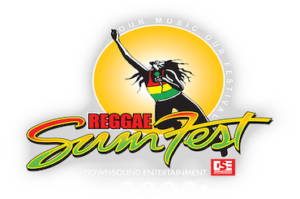 There is no shortage of Jamaican festivals, but none as big as Reggae Sumfest, which has been around for more than 25 years. This massive annual festival celebrates all the genres of Jamaican music including reggae and dancehall, but also features soul, pop and R&B. Each year, Jamaicans and visitors are treated to several days of performances by Jamaican artists and international superstars. This year's six night event includes a Blitz Party, Global Sound Clash and two nights of live festival performances. Caribbean superstar Shenseea will be a featured star performer on the Friday night.
[the_ad id='8070′]
4. St. Martin – SXM Festival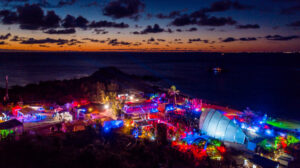 The SXM Festival is a newcomer to the Caribbean event scene. Nevertheless, it is now one of the most talked-about music festivals in the region. It is a five-day event that features today's most popular techno and underground house performers. The music is more forward-leaning, which is one of its charms. Add to it the natural beauty of St. Martin, and you've got a sure hit. If you missed it this year, you could always catch next year's celebration which takes place on March 10th– 15th 2023.
[the_ad id='8070′]
5. Aruba – Soul Music Beach Festival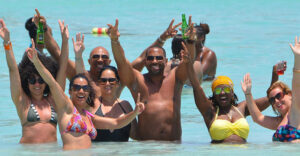 Aruba is a gorgeous island and is worth a visit on its own. However, if you need more motivation to make the trip, here's one more: the Soul Music Beach Festival. Now in its 20th year, this annual festival showcases performances from internationally acclaimed musicians and comedians. These acts are interspersed with the best island food and healthy doses of themed parties set against beautiful beaches. The six-day event will run from May 25th to 30th.
[the_ad id='8070′]
6. Cayman Islands – Pirate's Week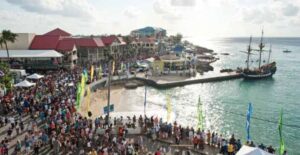 If you want an excuse to wear an eye patch, head to the Cayman Islands for Pirate's Week. It is a nod to the country's fascinating history of plunder at sea. However, make no mistake; it is a family-friendly celebration with many street dances, fireworks, costume contests, and other fun activities. There is even a mock invasion of George Town harbor followed by a "trial" of the pirates. We should note the month in which this event occurs…in November but this year is not yet confirmed as far as I know.
[the_ad id='8070′]
7. Barbados Crop Over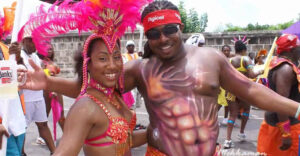 Crop Over marks the end of the sugar cane harvest in Barbados. Before you dismiss it, consider this: it features weeks of parades, concerts, and markets. It also involves a lot of indulgences. So if you are looking to escape your bustling city life and immerse in the Bajan culture, visit Barbados for this year's Crop Over. The main celebrations for Crop Over occur during the first weekend of August beginning on 27th July 2022 and running until Tuesday 2nd August 2022. The biggest day of carnival takes place on Grand Kadooment Day which is Monday 1st August 2022.
[the_ad id='8070′]
8. British Virgin Islands – Emancipation Day Festival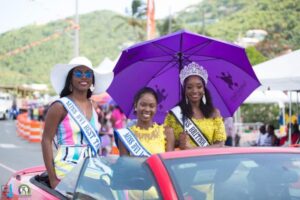 The British Virgin Islands Emancipation Festival is a celebration of the native ancestors' freedom from colonialism and the territory's cultural history. During this festival, the island showcases the culture and history of its people in grand style with nightly shows featuring local and international music, pageants, Food Fairs, Rise & Shine Tramps (early morning street dancing), parades, gospel celebrations and folklore presentations. Considered the most important cultural showcase in the BVI, this festival takes place from July 25th to August 3rd 2022.
[the_ad id='8070′]
9. St. Lucia – Creole Heritage Month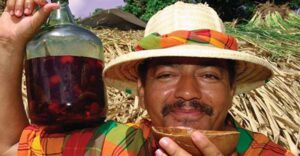 Creole Day was first observed in Saint Lucia in 1981. Since then, this festival of French Creole heritage has grown into a month-long celebration of local cuisine, music, dance, art, and other forms of cultural expression. The festival honors the richness and diversity of Saint Lucia's cultural, ethnic, and artistic legacy. The celebrations conclude on the last weekend of October with Creole Day (Jounen Kweyol) held in several villages throughout the island, featuring a range of local gastronomic delights, musical, dramatic, and other performances, street celebrations, art exhibitions and more.
[the_ad id='8070′]
10. The Bahamas- Bahamas Junkanoo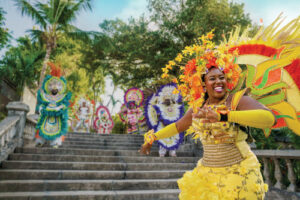 Bahamian Junkanoo is one of the Caribbean's most celebrated and spirited events very similar to carnival. Held each year in the crisp early hours of Boxing Day and New Year's Day. The event is a showcase of Bahamian culture influenced by the island's rich history. It takes the form of a street parade and features revelers adorned in colorful costumes rushing for hours along Bay Street in Nassau. Patrons are warmed by the pulsating sounds of cowbells, horns, and goatskin drums in the fresh cool air.  In fact, the event has grown in popularity, and smaller versions of the event can be experienced during the summer months. Preparations for the event literally take months and bring together men and women from all different walks of life.
Take Your Pick
There are plenty of Caribbean festivals that can make your trip to the islands memorable, and because they are so unique, you can check them all out …in one year. So what are you waiting for? Hop on a plane, head to one of the most popular vacation destinations in the world, and have the time of your life!
[the_ad id='8070′]