White stretches of sand, turquoise waters, and colorful reefs are the first things that come to mind whenever you hear the word Caribbean. You also see images of luxurious resorts that serve your favorite tropical drinks as you soak in the sun after a good swim at a Caribbean beach.
However, there are so many other things to do in the Caribbean.
While it is undoubtedly one of the world's premier beach destinations, it has more to offer. It has no shortage of key attractions from a unique cultural heritage to adrenaline-pumping outdoor adventures to green landscapes and panoramic views.
Visiting this part of the world is something you must do at least once in your life. If you get the chance, below are 10 of the many Caribbean experiences that you should not miss.
Things to Do in the Caribbean
One can have so many unique and fun experiences in the Caribbean, too many to compile here but we are happy to share a small sampling of must dos when visiting this popular region:
1. Explore Dunn's River Falls
First on the list is Dunn's River Falls and Park in the north coastal island of Jamaica. Its array of hypnotizing cascades and natural pools of water offers a refreshing change of pace from bustling city life.
You can just dip in the crystalline waters, close your eyes, and feel your worries float away. You can also enjoy the stunning views all around you. Don't forget to take a photo as the area is a spectacular backdrop.
If you're up for it, there is a 180-foot cascade that is safe to climb with the help of a tourist guide. It adds an element of adventure to a relaxing Caribbean vacation.
2. Close Encounter With Stingrays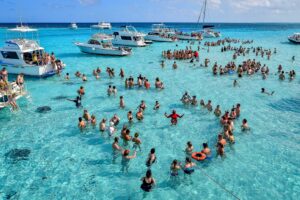 Are you looking for something with a bit more oomph? Then visit Stingray City in the North Sound of Grand Cayman.
There are a series of shallow sandbars where you and your family can swim with stingrays.
Normally, people can only view these sea creatures from afar, but you can get up close and personal when in Stingray City.
You do not have to swim deep into the Caribbean waters to enjoy the experience. The stingrays are used to people, and you will typically see them even at a depth of one meter.
3. Experience the World's Only Drive-In Volcano
Visiting the Sulphur Springs in St. Lucia should be among the top 10 things to do on your bucket list.
It is the only one in the western hemisphere and minutes away from the Piton's a UN World Heritage site.
Immerse yourself in one of the Sulphur mud pools heated by the dormant Soufriere volcano.
Your visit to the Sulphur Springs won't be complete if you haven't painted yourself with different shades of the rich mineral mud renowned for its healing and rejuvenating properties.
4. Take a history tour of Santo Domingo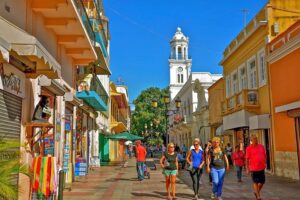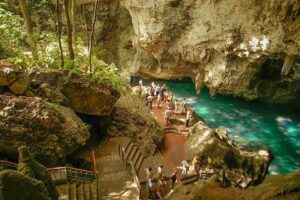 If your travels take you to the Dominican Republic, do not leave without visiting the capital Santo Domingo.
It is the oldest city in the western hemisphere, with the first university and cathedral in the Americas.
This colonial city was the first European settlement of the Americas and was designated a UN World Heritage Site in 1990.
Explore the historic neighborhood by foot and take in the architectural wonders and colonial buildings that date back to the 15th century and house museums, shops, hotels and more.
You can also board the Chu Chu Colonial Train for a 45-minute tour of the area or schedule a picnic at the National Botanical Garden which is supposed to be the biggest in the Caribbean. 
5. Visit Mosquito Bay at Night
Puerto Rico's island of Vieques is known for its amazing public beaches ranging in color from white to soft black and pink sand. However, this is not the only reason to visit the place.
If you find yourself in Vieques, Puerto Rico, you should not leave without spending a night at Puerto Mosquito Bay.
Located on the island's southern coast, it is the world's brightest bioluminescent bay. You can enjoy this magical experience by taking a kayak tour at night or a quick rafting trip.
If possible, visit during nights when there is no moonlight in this stunning Puerto Rico island destination.
6. Take on the Waitukubuli National Trail
Another popular destination is the Waitukubuli National Trail. It is a scenic, coast-to-coast route that stretches over 110 miles.
Located on the nature island, Dominica, the Waitukubuli National Trail offers the Caribbean's most challenging but rewarding long-distance trek.
If you love mountain range hiking and adding an element of adventure to your family vacations, you should include this in your itinerary.
The Trail will take you through various terrains, including farmlands, dusty plains, and rainforests.
It consists of 14 distinct segments, and you can take them on individually or finish the whole trail.
Along the way, you will see the Morne Trois Pitons National Park, a UNESCO World Heritage site.
7. Visit A fortress
If you want to take a trip back to the past and witness an example of well preserved military engineering, then you may want to visit Brimstone Hill Fortress National Park, a UNESCO world heritage site on the island of St. Kitts.
With the construction dating back to 1690 and continued intermittently over the next century, you'll be amazed at how intact the structure is.
Enjoy the most amazing views of the islands of St. Kitts and Nevis and take lots of photos.
8. Walk Through the Arikok National Park
Beyond its beauty, its diversity makes the Caribbean an even more amazing region. This is on full display at the Arikok National Park in Aruba, a sweeping desert landscape that offers cacti and rocky hilltops.
You can explore it on horseback and find swimming holes hidden between the rocks.
You can also do it on foot if you're looking for a bigger challenge while enjoying the natural attractions.
9. Go under by tram through Harrison's Cave
You want a peak of the Caribbean's under world? Well, Harrison's Cave in Barbados is that unique eco-tour you should not miss.
Ranked as one of the island's seven wonders, located in the central uplands is Harrison's Cave, which officially opened in 1981.
A must see when visiting the island, the Cave is made up of crystallized limestone and features flowing streams, deep pools of clear water and towering columns.
This massive cave system is about 2.3 Kilometers (approximately 1.4miles) long and can be experienced by tram taking in the beauty all-around; of the white flow stones, stalactites and stalagmites formations.
The interior temperature is said to be around 27 degrees Celsius.  
10. Have Good Clean Fun at the Pig Beach
If you think about going to the Bahamas to enjoy a sandy beach vacation, the last thing that probably goes into your mind is swimming with pigs.
But this is the experience you will get when visiting Pig Beach, a very popular beach on Big Major Cay, which gets its name because of the colony of feral pigs which live on the island. This cay is one of 360 islands in the district of Exuma.
It has all the makings of a great Caribbean vacation: beautiful beach, pristine waters, and tanned beachgoers. However, all these take a back seat to many cute swimming pigs!
A World-Class Experience in the Caribbean
The Caribbean is one of the most popular vacation destinations in the world for travelers. There is a lot to see and do with unique experiences abound. If you get the chance to visit, make sure that you make the most of every island you visit by experiencing everything they each have to offer.
From amazing beaches, breathtaking topographies, some of the largest nature reserves, world-famous waterfalls, UNESCO world heritage sites and a lot more. Aside from these attractions, you can also participate in various events and carnivals, enjoy fresh culinary delights and tour a historic rum distillery…memories that will last a lifetime.